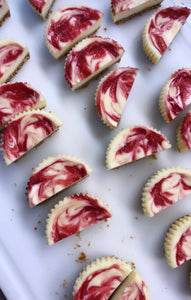 These Raspberry Swirl Cheesecakes are a classic cheesecake during these winter months. This cheesecake is rich in creaminess with the perfect amount of graham cracker crust. Each order of Raspberry Swirl Cheesecakes include 12 "halves" of cheesecake like the photo.
Orders can be picked up from our location in Warrenton,
OR

Delivery is available for orders of $75+. Location must be within 55 miles. Deliveries will be made Thursdays-Sundays from 9am-2pm.