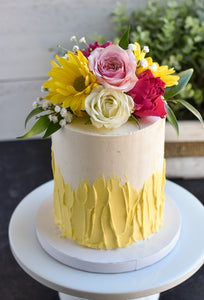 We love this bright & springy cake, perfect for celebrating any special person or occasion.
This cake will be decorated just like this photo, flowers will be arranged like the photo and similar to the colors in the photo. If you'd prefer the icing to be a different color, please add this in the notes. If you'd like to add a sign onto the cake, please add it in the notes. 
This will be offered in a 4 inch (as pictured) Feeds 4-6 people, or a 6 inch, feeds 12-15.
Flavors include our most popular combinations: 
Our best selling Vanilla Cake with Raspberry Jam & Vanilla Buttercream
Chocolate cake with our silky light chocolate buttercream (available GF as well)
Carrot Cake with Brown Sugar Cream Cheese frosting
Lemon Cake with Cream Cheese Frosting
Bourbon Cake with Maple Whiskey Frosting
Orders can be picked up from our location in Warrenton,
OR

Delivery is available for orders of $75+. Location must be within 55 miles. Deliveries will be made Thursdays-Sundays from 9am-2pm.