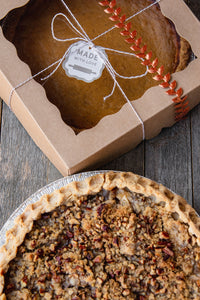 Pre order your Pumpkin Pie for Thanksgiving!
🎃🥧 Craving something sweet this holiday season? Look no further! 🤩
This 9 inch Pumpkin Pie is an absolute must-have for your family gathering. Our flakey crust is 🤤 topped with a generous layer of whipped cream and the perfect touch of seasonal spices.
Enjoy a delicious slice (or two 😉) and make memories with your family this holiday season!
Pick up in Warrenton will be available Tuesday, November 21st & Wednesday, November 22nd, Thanksgiving day (and my birthday) Pick up will be available 8 am to 12 pm at our Old Town Warrenton location. 

Delivery is available with orders above $75.
All products are manufactured in a facility with nuts, dairy, gluten, egg.