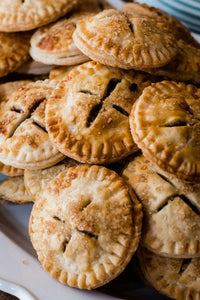 We are so excited to announce the arrival of our Shippable Fall desserts!
Please read this description carefully before placing your order!
Our A la carte dessert boxes can be shipped ANYWHERE in United States. We've brought to you some of the most irresistible, Drool-worthy, comforting items on our menu, delivered right to your door step! We realize that our fall options are wanted more than just a small quantity, so we are offering larger options!
Included in this box: 
12 Apple Bourbon Handpies (Dairy free)
Our A la carte Fall Boxes are currently available for PRE ORDER only.

 

Our first batches will not be shipped out until after Labor Day, 9/5.
Please type the date you would like your box to be shipped at checkout, you can order these weeks in advance. Make sure you grab one before we sell out! If you would like to include a note if you are shipping to someone else to enjoy, please put what you would like the card to say in the notes section checkout.