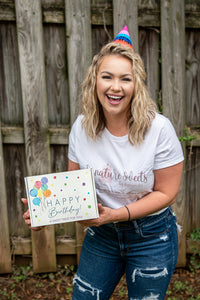 OUR HAPPY BIRTHDAY BOX

What better way to celebrate a birthday than with the gift of Signature Sweets?! That's right, you can ship this adorable and fun dessert box nationwide! This is the perfect gift to send family and friends to wish them a happy birthday!
Each Box will include:
6 confetti cake macarons
2 white chocolate dipped brownie pops with sprinkles
4 of our Best selling Banana Bread donuts with our browned butter glaze on the side, equipped with sprinkles to add ALL the fun
2 of Stevi's cookies decorated Birthday cookies fitting with the theme
A card matching our shipped box with the menu listed inside, as well as a space for you to send a message in. Please don't forget to write in the notes at checkout the message you'd like to send to the Birthday person!
Shipping cost
We require 7 days notice for shipment. Please write at checkout the date you would like the box to be received so we can plan out the delivery for you! If your date is within the 7 days notice, we will cancel/refund your order.