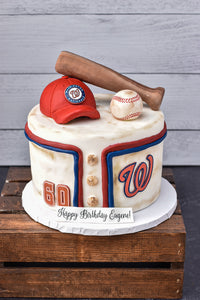 Enjoy one of Signature Sweets best selling treat with a bite of this cake! 
We are offering this in Vanilla, Chocolate, Bourbon Cake and Carrot cake.
You can choose between Raspberry Jam with Vanilla Buttercream, Brown sugar cream cheese frosting, cookies & cream frosting,  cream cheese frosting, and chocolate buttercream. 
In the notes section at checkout please let me know:
The team you would like me to design the cake with
The number you'd like on the side
If you'd like a sign at the bottom as well, what would you like it to say
Orders can be picked up from our location in Warrenton,
OR

Delivery is available for orders of $75+. Location must be within 55 miles. Deliveries will be made Thursdays-Sundays from 9am-2pm.